Get Started With a Free VPN
and Defend Your Data
Download the PrivadoVPN App and Sign Up for a Free VPN Account
Download PrivadoVPN Free
How We Provide a High Quality Free VPN
While it is expensive to run a VPN, we feel that it's more important than ever that privacy be accessible by everybody, not just the people who can afford it. Freedom isn't just a privilege of the wealthy: it is a human right.
That is why PrivadoVPN is a free VPN. We also provide a paid service for those who want to support our goal of defending everyone's online privacy. PrivadoVPN Premium comes with these additional benefits.
More VPN Servers
Get access to our full network of hundreds of servers in Countries and cities in the PrivadoVPN apps.
Get Unlimited Data
We remove the data cap so that you can stream, game, and download large files to your heart's content.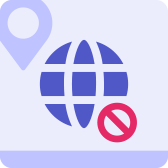 No More Geoblocking
You don't have to deal with geographic restrictions on content any more. Get a new IP to access streaming music, video, and social media from anywhere in the world in seconds.
Connect Automatically
Use the PrivadoVPN apps for your desktop, phone, router, or other devices to automatically connect to the best server and protect your data.